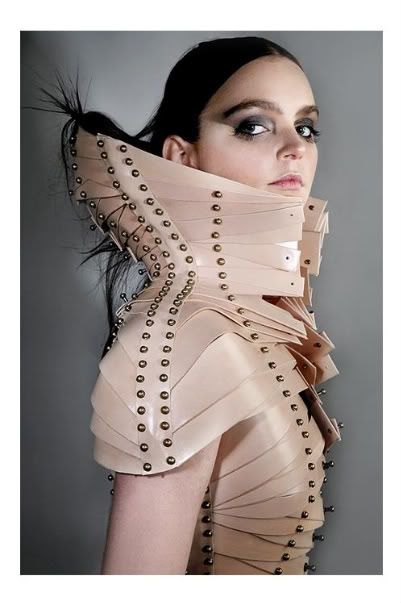 Physical and emotional trauma can paralyze the human spirit. If one recovers from the event, their tribulation can be channeled into a creative and cathartic release. Una Burke, a London based designer, took historic tragic events as inspiration, and created fascinating body accessories that conveyed the stages of the healing process. These forms and shapes reflect a powerful image of personal endurance and the will to survive. Una Burkes' designs helps us realize the struggle isn't only visible, but psychological.
ASDF: Please explain the inspiration for your collection.
UB: My collection is based on the study of the human mind and how it deals with a traumatic event, particularly examining the protective emotional barriers that are often put in place as a result of this. I looked at the different stages of trauma, from the event itself, through the psychological aftermath and finally arriving at a place of acceptance and overcoming. It is a journey of healing in a way but it pays respect to all of the stages that have to be endured before healing can take place.
ASDF: During that process what were you shocked to discover?
UB: In researching this topic I looked at the lives and works of various artists and designers. I was really surprised to discover that the work of many of these successful and controversial individuals was driven by a passion to make a statement through their work or to use their work to recover from a traumatic event in their lives.
ASDF: When did you first begin to take an interest in fashion design?
UB: My interest in fashion stems from my mother and her mother and even her mothers mother! These three women have always been very creative and passionate about textiles, forms and surface details. My mum even had me stitching on the sewing machine by the age of five, and I was apparently quite good! My love of working specifically with leather possibly comes from my father's side, as his father was a shoemaker with a deep respect for the craft of leatherworking.
The first time I realized that I definitely wanted to study fashion design however, was at the age of fourteen or fifteen. It regularly happened to me that when I tried to sleep at night and I came to that stage between wake and sleep, I could see models walking up and down catwalks wearing clothes that I had created in my own mind, even down to the stitching detail on the pockets. I had not seen these clothes in magazines or on TV as we only had two television channels at that time and fashion wasn't exactly a priority with either of them!!
ASDF: You name designers such as Alexander McQueen as one of your significant influences. What are your thoughts on his recent collection?
UB: I looked at McQueen's life and work as one of the designers who had been through a childhood trauma and as he says himself, "Everything I've done since then was for the purpose of making women look stronger, not naïve". His current collection, as always shows his incredible ability to create sculptural forms through the use of delicate silk fabrics. His use of both soft and striking prints and colors this season is particularly effective in his aim to empower women.
ASDF:What were the challenges you faced while making this collection?
UB: I faced many technical difficulties with the curves of the body, in particular hips and elbows! The technique of construction that I was using has a mind of its own and while I used this to my advantage most of the time, there were one or two pieces that brought me to tears on a number of occasions. I am happy that despite this I was able to pursue my final outcome and found ways of achieving my intended forms.
ASDF: Can you describe the emotional toll traumatic events have on the human body?
UB: Different types of trauma can have differing effects on the body but more common to all types of trauma is the effect on the mind. Then as a result of this the body will often subconsciously revert to protective poses such as the fetal position which I have created when the kneeling piece is displayed with the tormented upper body piece above it. This can also be seen in the piece with the arms folded in front of the chest as this action is one which people automatically do when they feel uncomfortable.
ASDF: Did researching the emotional aspects of trauma victims effect you in any way?
UB: Yes absolutely, I found it quite difficult in fact, which is why the collection is so provocative because in the end I was completely emotionally involved with it. I found myself examining my own past experiences and understanding and even healing myself from these long buried events that had subconsciously hindered me for years. It is an amazing and an empowering experience to face and overcome your past.
ASDF: Please describe the materials used to create these pieces.
UB: For this whole collection I have used natural vegetable tanned bovine leather. My reason for this choice is because it is so close in tone to Caucasian human flesh, making the pieces have much more impact on the viewer, as it confirms that they are a deliberate reference to the human body and implies the vulnerability of naked flesh and raw emotion. I also used tarnished brass fittings to hold the strips of leather together. These are backed with brass screws which have been intentionally tarnished and slightly re-polished by hand. The inside of all the pieces in the collection have been lined with this vegetable tanned leather as well, making them very beautifully finished and interesting for the viewer when displayed in a gallery environment.
ASDF: Are you planning any gallery exhibits? Past / Present / Future?
UB: My work will be exhibited in Future Map '09, at Hoxton Square Projects, London. This runs from 26 November through 23 December. I will also have work on display in the National Crafts Gallery in Kilkenny, Ireland as part of the 'Generation' exhibition, which runs from October 31st 2009 until January 10th 2010. My collection was featured in a photo shoot and short film produced in Namibia this month by the Austrian photographer Andreas Waldschutz. These photos, the film and some pieces from my collection will be displayed in a traveling exhibition which will start in Zurich in January 2010, continuing on to Vienna and then to London.
ASDF: Would you ever consider doing art installations?
UB: I have already exhibited this collection as a gallery installation in a number of galleries in London and Ireland. Through the layout of the display and the use of lighting I create dialogues between the pieces to create a mood or scene. I would like to continue creating pieces that are not just for wearing but which also have a story of their own when removed from the body.
ASDF: How would you describe the "Una Burke Client"?
UB: The Úna Burke Client has an appreciation for high quality and handcraftsmanship. She is a passionate and strong minded individual. She is self aware, subtly confident in her identity but bold enough to be noticed.
ASDF: What has the overall reception been toward your collection?
UB: I can't really believe how well my collection has been received as it's all been moving so quickly since I finished my MA in January. First I was chosen as a finalist in the international fashion competition ITS#EIGHT and then the collection was featured in events all over the world such as catwalk shows, photo shoots, art exhibitions and even a short film and two books. So far these pieces have been used by stylists, and photographers in Italy, Germany, Namibia, Britain and Ireland and now they will continue on their amazing tour to New York, Switzerland and Austria.
ASDF: Favorite artists you are currently interested in.
UB: I am currently interested in Hans Bellmers work as I was influenced by his ability to use inanimate objects to provoke feelings within the viewer. This way of thinking has made me consider my viewpoint more rather than always looking at situations from the inside it's very important see it from the outside.
ASDF: Your collection is thought provoking and captures an intensity that infuses beautiful artistic taste and craftsmanship. When starting this collection did you know how the final product was going to turn out?
UB: I knew that the outcome would be intense as I was dealing with a very sensitive subject as every person in the world has experienced trauma in their life, whether this is through an event in their own life or that of a loved one. We all know and understand fear, pain, remorse and all of those human conditions therefore this collection could be nothing but thought provoking.
In creating a collection of beautifully crafted pieces I was deliberately turning this negative topic into something visually intriguing and intricately formed as though each piece was growing and evolving from the subject matter. The respect for the material I had chosen to work with reflects the care and time and patience it takes to recover from a trauma. Every little bit had to be perfect in the construction of these pieces as they were my process of recovery too.
-asdf
Una Burke Exhibits:
Future Map '09
Hoxton Square Projects, London
November 26th-December 23rd, 2009
National Crafts Gallery - Generation Exhibit
Kilkenny, Ireland
October 31st-January 10th, 2010