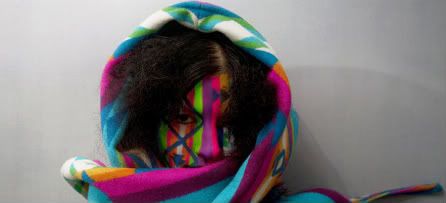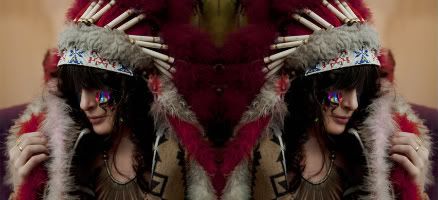 A designer whose strong inspirational influences translate perfectly to her garments. Beautiful conceptualized photographs that capture the essence of her cloaks. Lindsey Thornburg is a designer who understands the need for clothing that's more than a tame reproduction of trends. Her work is both inspirational and functional. Her cloaks are a perfect embodiment of Peruvian style and tradition . A fascinating collection of work that will definitely continue to impress, inspire and awe.
ASDF: Please explain how your collection came to be. Describe your process, sorting through personal references and finally making the transition from inspiration to design.
LT: After touring the countryside of Peru I was inspired by the how even the most poverty stricken communities had an inherently beautiful way of draping and enhancing the most basic clothing with coloring and layering.
ASDF: Has the economic climate affected your business and how your garments are produced?
LT: No ones business went unscathed, it was kind of just waiting for what facet the gauntlet was going drop. Be it retailers not paying, accounts canceling, sewers getting laid off. I was lucky enough to have strong press at the most imperative time, which helped with worldwide sales. As far as production, I really pride my line on being produced with in my community, I really worked around how to finically accommodate this. Which meant focusing on my online boutique; this allows my company to maintain a strong foundation without depending on the happenstance of retailer's accountability. And, I get to give my clients access to super limited addition items!!!
ASDF: Who are the designers that inspire you?
LT: Douglas Hannat, Alexander McQueen, Meadham Kirchhoff, Gareth Pugh, Chase Cohl (littledoe), Mark Fast, Anna Sheffield, Ben Cho, Merly Smith.
ASDF: What up and coming designers do you see gaining popularity in the next few years?
LT: I don't follow the designer world that closely… I try to let the world around inspire. However, fashion is a fun spot I can't wait to see!!
ASDF: Are there any designers you would like to collaborate with?
LT: Anyone… Really, the more the merrier!
ASDF: What albums are you listening to at the moment; does that play into your creative process?
LT: Animal Collective (Strawberry Jams and Feels) is on constant heavy rotation. Gang Gang Dance. Music is the magic behind anything I do.
ASDF: Top five magazines you read.
LT: Purple, Dazed and Confused, Jalouse, New York Magazine, New York Times Magazine.
ASDF: Are there any NY/London fashion week collections you've loved so far?
LT: Gareth Pugh
ASDF: Your cloaks are both daring and unique for editorials, and yet are a great piece for someone's personal wardrobe. Was that your intention?
LT: My intention was to keep myself and my friends warm in unique manner.
ASDF: In the future do you plan on showing your collection as a presentation/runway show?
LT: Maybe? That's seems like a logical progression…And I just love a good platform to collaborate with different mediums.
ASDF: Is there anything about the fashion industry that has surprised you?
LT: Lots of things! Most importantly, making beauty creates a beautiful reaction.
And unfortunately, the lack of integrity and ethical practice within most big business fashion conglomerates is shocking.
ASDF: The lookbook on your website lindseythornburg.com serves as an amazing source of inspiration. How do you come up with the concepts for the shoot?
LT: I'm always dreaming. I think half the reason I make clothing is to facilitate an awesome photo story. Lucky for me one of my best friends Olivia Malone is also my favorite photographer; we share a similar aesthetic so making my dreams reality is relatively seamless, relatively.J
ASDF: Can you give me some insight (or as much as you would like to share) about your next collection?
LT: I just love surprises… don't you?
-asdf
Visit Lindsey Thornburgs' website:
http://www.lindseythornburg.com/