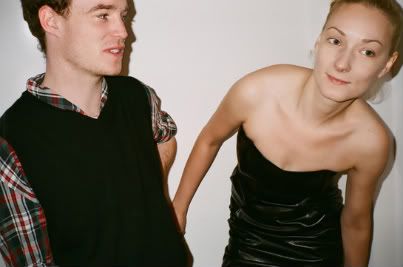 As the proverbial warning urges the guarded to stand down, designers Jen Gilpin and Kyle Callanan of "DONT SHOOT THE MESSENGERS" construct exquisite garments while exhibiting their expertise with leather and silk. Their Art Deco inspired garments are draped with geometric logistics resulting in refined silhouettes that Jen Gilpin describes as "cocooning" the form. With the launch of their online store and the release of their SS11 teaser, DSTM maintains their cerebral sensibility and offer a glimpse of what is to come.
ASDF: Where are you both originally from, and how did you meet?
DSTM: Jen Gilpin from Canada and Kyle Callanan from New Zealand. We met here in Berlin on a project.
ASDF: Why was Berlin, Germany chosen as the base for the house?
DSTM: We both love Berlin, and the space that it has for living, thinking and working. We came here for different reasons, but now we are here to stay.
ASDF: Collaborations of any kind tend to be volatile? How did you know that coming together would generate great design aesthetics?
DSTM: We work together quite seamlessly, working off of our different strengths. We both really appreciate well made things and the craftsmanship element of clothing.
The aesthetic and designs springs from there, and fits into the world we are creating.
ASDF: What was the initial point of inspiration for the very first collection?
DSTM: Things really sprang from the leather and silk combination, and the opposite poles of soft and hard.
ASDF: Which particular Art Deco works were used as a source of inspiration, and for which collection?
DSTM: It wasn't any particular work, it was more about the lines essence and shape and feeling.
ASDF: Is the juxtaposition of the hard and soft characteristics of leather and silk a means to define the DONT SHOOT THE MESSENGERS client? Why were those certain fabrics chosen?
DSTM: In a way yes, we are describing a person who inherits both elements. Leather is hard, adding a layer of skin, silk is soft, and cocooning the body.
ASDF: Can you explain how geometric elements are incorporated within the collections?
DSTM: We are always looking into different ways of pattern making and we use geometric principals to build the patterns.
ASDF: As a collaborative, explain how the design process is established - from inspiration, analysis, to the completed collection.
DSTM: It's difficult to define, it goes back and forth, and we discuss each piece as they come placing them in the story till it is complete.
ASDF: As designers how do you feel about the direction the fashion industry is taking?
DSTM: The development of Blogging and online shops are great, DSTM online shop will be launching in August.
ASDF: Describe the Berlin fashion industry compared to the other international fashion capitols.
DSTM: It's very small but growing.
ASDF: Has the city of Berlin influenced your personal style? How so?
DSTM: Its not important how you dress here, its about who you are not who you wear.
ASDF: Along with the Berlin, and Paris showrooms, do you plan on opening one in the U.S. or Canada?
DSTM: We are showing with Tranoi in October in Paris, and have no plans for North America as of yet.
ASDF: Could you give us a hint as to what is next for DONT SHOOT THE MESSENGERS? A possible men's line perhaps?
DSTM: We will be developing the unisex and men's line further for the spring collection, also our boutique in Berlin Mitte will be opening in late August, we are excited about it.
-asdf
DONT SHOOT THE MESSENGERS AW10 from DSTM on Vimeo.
WEBSITE: www.dont-shoot-the-messengers.com
Introduction Image: Photographer-Maxime Ballesteros
*Special thanks to Jen Gilpin and Kyle Callanan for the interview and video!*