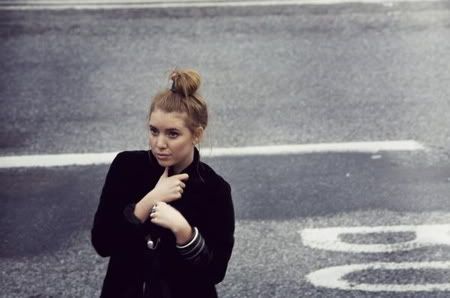 Lykke Li - Little Bit from Lykke Li on Vimeo.
Lykke Li and "The Bun!!!!"
Jenni Kayne
New York fashion week came and went and I sit here on a lazy Wednesday afternoon (who knew there was a Sunday equivalent) slowly taking in what Bryant park had to offer. Along with my usual favorites there were a few shows and presentations that took me by surprise. Here are my favorites from New York Fashion Week.
Up first is Jenni Kayne. I must say I never knew a bun could sit up that high until I saw this presentation. Or possibly when I saw the Lykke Li video for "Little Bit". According to an article in Nylon Magazine she stated that the bun that she so proudly wears is all the rage in her native Sweden and has been for a quite while. I guess it's taken this trend a while to wash up on our shores, but nevertheless I embrace it with open arms. Well kind of. Enough of the hair talk lets talk garments. I have been a fan of Jenni Kaynes' ever since she showed her collection for Fall '08. Oh so many moons ago. It's truly interesting how she so effortlessly manages to exude comfort, sophistication, and ease with each garment in her collection. This is one of the few presentations/collections that doesn't seem to be trying too hard to prove their point. She manages to do that with only silhouette, color palette and a cohesive idea that pulls her collection together.
-asdf
Phots: Style.com/Google Images